Absolute Chiropractic & Rehab Wants to Help You Avoid Surgery With Physical Therapy
Absolute Chiropractic & Rehab Wants to Help You Avoid Surgery With Physical Therapy
Written By Absolute Chiropractic & Rehab on July 29, 2021
---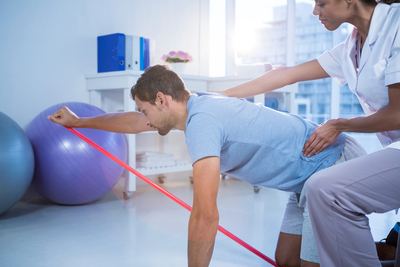 Surgery is a procedure that cannot be undone. And while surgeons have a great success rate with ensuring patients survive surgery, the success rate for providing pain relief and restoring range of motion isn't anywhere nearly as high. So do you have to suck up pain and discomfort for the rest of your life, or hope surgery actually helps you? Nope.
Our medical team at Absolute Chiropractic & Rehab offers expert physical therapy to help you avoid the need for surgery on your knees, hips, back, and other areas getting worn out.
How Physical Therapy Helps You Avoid Surgery
Your body is an expert on repairing itself. The challenge is it can keep up with only so much. So if you're doing the same thing over and over, year after year, your body will slowly lose the battle to the point where surgery may be your only option. Physical therapy, however, can help you break the vicious cycle.
What physical therapy does is help your body restore proper function and range of motion. Injury means pain, inflammation, swelling and stiffness, all of which means your body has to move in a way to protect the injury site. While surgery can suture soft tissue back together, it doesn't make your joint stronger or protect you from re-injury.
Physical therapy works to strengthen muscles, providing more support and stability for your injury site. Our therapists also carefully work to improve range of motion and flexibility, two critical aspects of restoring and preserving proper biomechanics. If you're not moving the way your body is designed to, you're going to wear out other areas of your body.
Ultimately, what our physical therapists do is evaluate what your body needs to get out of pain and stay out of pain. Pain is your body's way of telling you that something's wrong and not necessarily that you need surgery. Our physical therapists evaluate patients to understand how the injury happened, why it happened, so they can address weak spots and your biomechanics so you can get moving without pain again.
Get Quality Physical Therapy in the Dallas Fort Worth Area
Our doctors have a passion for helping others through chiropractic, physiotherapy and massage. These three practices can vastly improve quality of life and daily living. If you want a drug-free way to potentially avoid surgery, then come see us.
Have questions or want to schedule an appointment? Call Absolute Chiropractic & Rehab at (817) 428-0801 or go online and fill out a contact form. We're happy to help!

Posted In: Chiropractic Physical Rehab