Chiropractic Care for Shoulder Blade Pain
Chiropractic Care for Shoulder Blade Pain
Written By Absolute Chiropractic & Rehab on November 4, 2021
---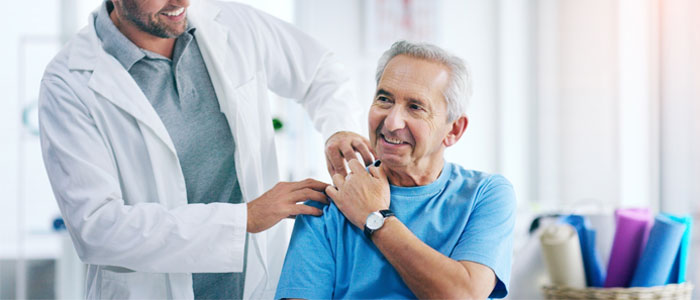 The shoulder is one of the most important joints in the body. Supporting mobility to the arms and back, you can't go a day without using your shoulders. If you are currently suffering from shoulder pain, the team of doctors at Absolute Chiropractic & Rehab is here to help. Our doctors are dedicated to delivering outstanding care that will leave you pain-free now and in the long-term.
Common Types of Shoulder Pain
Shoulder pain can be a complex condition. Many common shoulder issues stem from the neck, as well as either under or over development of muscles. Common issues with the shoulders may include:
Bursitis
Tendonitis
Tendon tear
Instability
Arthritis
Fracture
Consulting a doctor at Absolute Chiropractic & Rehab is the first step in properly treating your shoulder pain and developing a plan to achieve pain relief.
Treating & Recovering from Shoulder Pain
Each patient is approached with an individualized recovery plan that fits their unique needs and lifestyle. Whether your shoulder pain comes from a work injury, sports injury, or just life, our doctors have the skills to treat your pain and prevent future complications.
Many shoulder-related issues are tied closely to neck pain. Recent studies have found more than 10% of Americans suffer from neck pain at any given time. The neck and shoulders contain delicate structures that can easily be aggravated by daily activity, such as poor posture or manual labor. It is necessary to find care for shoulder pain when it happens to prevent the development of further issues.
Chiropractic Treatment for Shoulder Blade Pain
Chiropractic treatment has many advantages, including being completely natural, as well as addressing the cause of pain, not just the symptoms. This type of care also focuses on using the strength and flexibility your body already has to contribute to the healing process.
Chiropractic care has been successful among patients and doctors alike for all of its beneficial properties, including reducing inflammation and pain, and improving flexibility and range of motion.
Schedule an Appointment Today
Start managing your pain today with the team at Absolute Chiropractic & Rehab. We look forward to welcoming you to our convenient Hurst location and helping you feel your best very soon.
Book an appointment online or give our office a call at (817) 428-0801.

Posted In: Chiropractic Shoulder Pain Shoulder Injury Bursitis Tendonitis