How Chiropractic Care Promotes Full-Body Wellness
How Chiropractic Care Promotes Full-Body Wellness
Written By Absolute Chiropractic & Rehab on April 4, 2022
---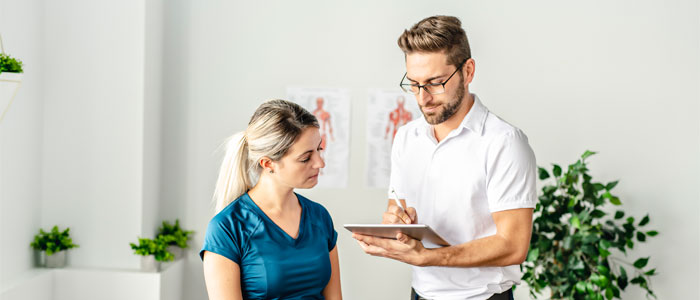 Did you know that chiropractors do a lot more than treat back pain? Absolute Chiropractic & Rehab treats a number of ailments and improves your overall health. Whether you are suffering a sports-related injury, recovering from an auto accident, or seeking treatment for another ailment, seeing our chiropractors in Hurst, TX, allows you to treat your issues naturally.
Benefits of Chiropractic Care
Treat pain without painkillers:

Many patients reach for ibuprofen or aspirin when their issues start flaring up. While this can treat the symptoms of your issue, only chiropractic care works to treat the underlying cause.

Chiropractic adjustments

ensure you are targeting your pain at the source, not just the symptoms.

Promote overall wellness:

Living in pain can make it difficult to function. From making decisions at work to maintaining a healthy home life, you aren't your best self when you're in pain. Chiropractic adjustments and physical rehabilitation allow you to reduce stress, improve your sleep, and get back to being your best self.

Natural treatments for chronic pain:

Rather than relying on expensive, invasive surgery, chiropractic care aims to alleviate your pain naturally without breaking the bank. Many spinal issues, like pinched discs or nerves, do not necessarily need surgery. Chiropractic care enables your body's natural healing abilities to reduce pain and inflammation.
How Chiropractors Treat Your Ailments
Chiropractic care involves the use of spinal manipulations to promote natural healing. Our goal is to realign your spine so that you can live a pain-free life. Our office uses targeted adjustments that relieve pressure, pain, and treat your ailments without the need for painkillers or surgery.
Not only do our chiropractors care about treating the symptoms, we also treat them at the root cause. Seeking professional care for your pain from a chiropractor in Hurst, TX, puts you on the road to recovery in a way that is practical and efficient.
Comprehensive Chiropractic Care in Hurst, TX
For years, Absolute Chiropractic & Rehab has helped patients throughout the Dallas-Fort Worth area put an end to their pain. We see patients for ailments ranging from back pain to headaches, as well as auto injuries.
Living with untreated injuries makes it difficult to be the healthiest you possible. Schedule an appointment at our Hurst chiropractic office at (817) 428-0801 and see how we can help you improve your overall health.

Posted In: Chiropractic Auto Injury Why Choose Chiropractic Care? Sports Injury